I currently use Prepare/Enrich and The Gottman Relationship Checkup. Both tools streamline the assessment part of couples counseling by offering a thorough, unbiased snapshot of relationship dynamics as well as a targeted overview of each Partner's personality, core values, individual functioning, and background. Automatically generated reports highlight strengths and challenges, increase understanding, and serve as catalysts for discussion. Depending on each couple's unique needs, we may use one or both of these questionnaires.
PREPARE/ENRICH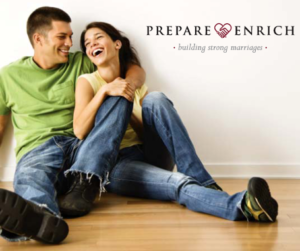 Prepare/Enrich (P/E) is one of the most versatile and customizable online assessments. Once both partners have completed the questionnaire, a comprehensive report is generated with graphs and detailed analyses of multiple scales that are customized for the couple's unique characteristics.
All P/E inventories measure satisfaction in categories such as Relationship Dynamics, Family & Friends, Communication, Conflict Resolution, Financial Management, Leisure Activities, Spiritual Beliefs, Partner Character Traits, and Relationship Expectations. Partners also receive a Personal Stress profile, a Family Map that explores the dynamics within the family of origin, and a Personality Scales assessment based on the Five Factor Model of Personality (the most widely accepted trait theory of personality). In addition to these standard categories, the assessment generates questions from over 30 customized categories, including previous marriages, step-parenting, current living arrangements, impending parenthood, and intergenerational issues for middle-aged couples.
Research has shown that the act of taking the P/E assessment improves relationship quality and brings increased awareness across multiple aspects of the relationship. It also reduces risk for divorce by 30% if taken prior to marriage.
Specifications:
Access: The same link and password are sent by P/E to each Partner's individual email address. However, neither Partner can access the other's answers
Devices: A desktop computer/laptop/tablet will work better than a smartphone when it comes to formatting, but you can complete on any device with Internet access
Number of items: About 200, depending on customized categories [at any point, you can save your answers, take a break, and resume when ready]
Time to complete: 30-45 minutes
The cost: $35 per couple, payable to Prepare/Enrich upon initial login
The report: About 25 pages, depending on customized categories. Must be administered by someone who is certified by Prepare/Enrich (I obtained this certification in 2006)
THE GOTTMAN RELATIONSHIP CHECKUP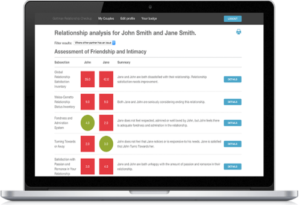 The Gottman Relationship Checkup (GRC) is based on the work of John Gottman, PhD, a professor of psychology and the founder and director of the esteemed Gottman Institute. For over 40 years, Dr Gottman has conducted breakthrough relationship research with thousands of couples. Along with his wife, Dr Julie Schwartz Gottman, he developed the world-renowned Gottman Method Couples Therapy. Based in Seattle, the Gottman Institute is highly respected for couples therapy workshops and retreats, production of high-quality instructional materials for couples and therapists, and for the sought-after training of mental health professionals.
The GRC is a 480-item questionnaire that relies on intensive, detailed, and evidence-based scientific information on why relationships succeed or fail. As is often mentioned in the media coverage of Dr John Gottman, he has a 91% accuracy of predicting divorce. This success is due to the decades of research data his team has accumulated while working with thousands of couples at various stages of their relationship.
The automated report is about 40 pages in length, providing narrative clinical feedback with summaries, thorough analyses of assessed areas, as well as detailed recommendations based on Dr. Gottman's research and its practical application in couple therapy. There are five main sections with a total of over 50 scales, including couple friendship, intimacy, chaos & control, emotions, conflict, values, trust, parenting, housework, finances, stress, life roles, and individual areas of concern (e.g., depression, anxiety, eating disorders, drugs/alcohol, sleeping issues).
Specifications:
Access: Each Partner receives a unique login and password and creates a personal profile. Neither Partner can access the other's answers
Devices: You can complete it on any device as long as the settings allow for pop-ups (per Gottman Institute, Google Chrome and Safari seem to work very well)
Number of items: 480 [at any point, you can save your answers, take a break, and resume when ready]
Time to complete: About 1-2 hours, depending on individual responses, the complexity of relationship dynamics, and the optional use of comment areas
The cost: $29 per couple, payable to the Gottman Institute upon initial login
The report: About 40 pages, depending on your answers. Before a clinician can begin using the Relationship Checkup, an application must be submitted to the Gottman Institute