What may happen without treatment…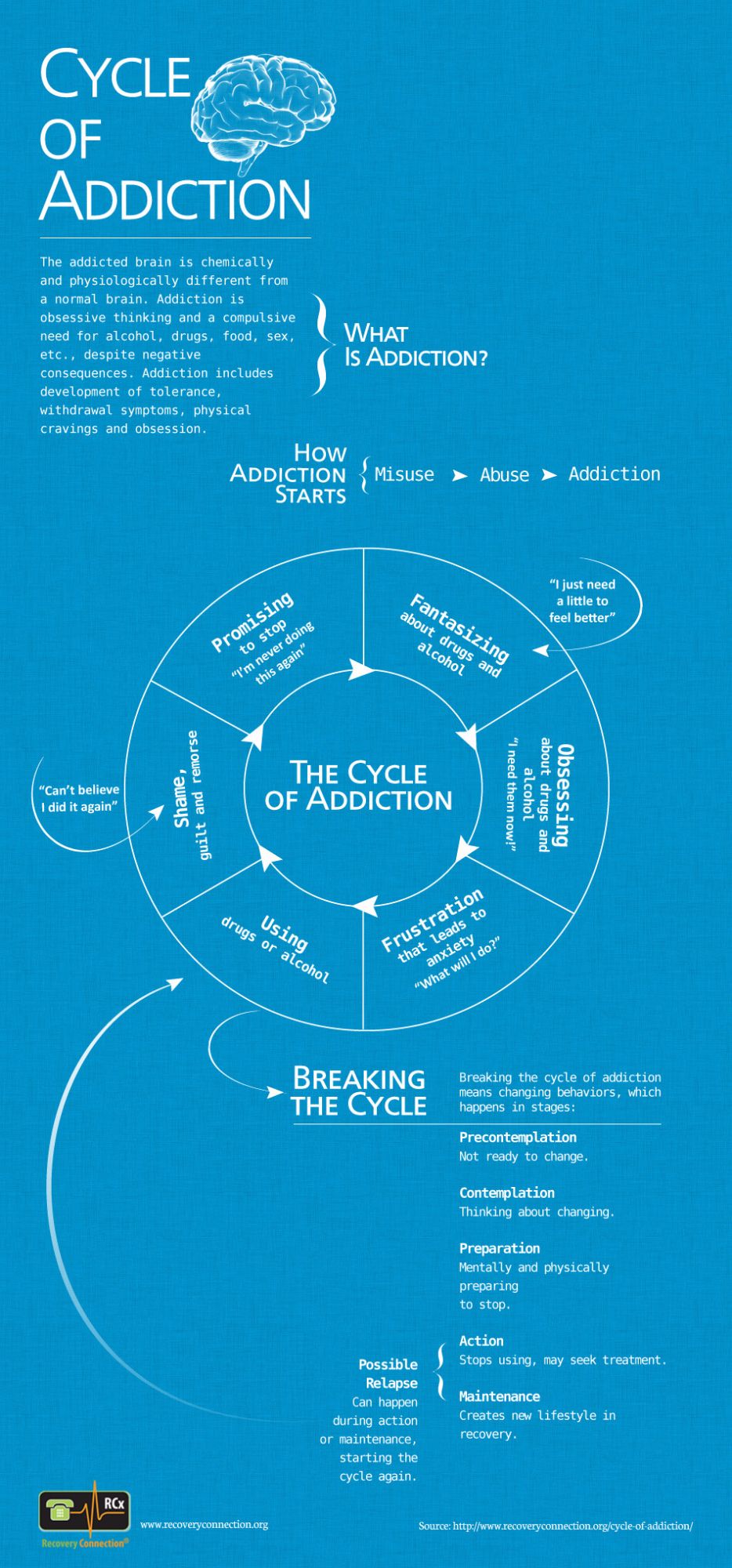 I would like to share data from the 2018 National Survey on Drug Use and Health. You can draw your own conclusions from the results. As you can see, almost 95% of those who needed specialty addiction treatment did not believe that they actually needed it. Specialty treatment refers to SUD treatment at a hospital, a rehabilitation facility (residential or outpatient), or a mental health center. The need for such treatment was indicated by the severity level of the respondent's addiction. Respondents came from three age groups, with 25% being adolescents aged 12-17, 25% being young adults aged 18-25, and 50% being adults aged 26 or older.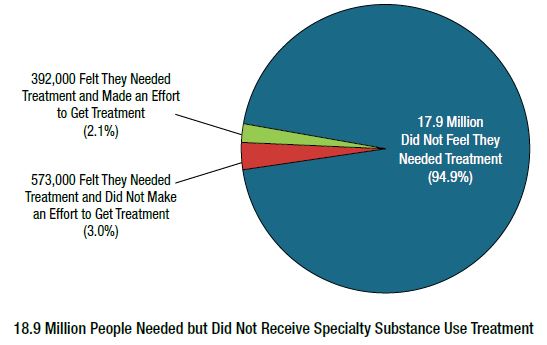 The 5.1% of respondents who felt they needed treatment but did not get it reported the following reasons: 38.4% said that they were not ready for it; 32.5% indicated they were unable to afford the cost of treatment; 21.1% did not know where to go to get treatment; 16% thought it would have a negative effect on their job; and 14.9% thought it would cause their neighbors or community to have a negative opinion of them (the percentages do not add up to 100% because survey participants may have given more than one reason).
As mentioned in the Dual Diagnosis section, integrated treatment is highly recommended for individuals with co-occurring disorders. The remaining information on this page is about integrated treatment as well as general SUD treatment, since there is significant overlap when it comes to principles, modalities, and strategies.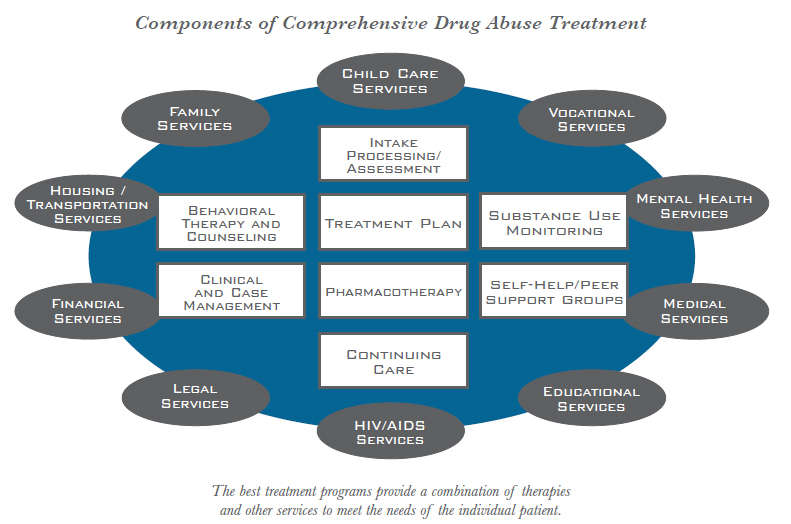 According to the National Institute on Drug Abuse, there are over 14,500 specialized addiction treatment facilities in the U.S. that provide a wide spectrum of services. The above image is an example of a highly comprehensive program. In addition to such settings, addiction and co-occurring disorders are treated by a variety of providers in physicians' offices, mental health clinics, as well as in private psychotherapy practices (the latter location being mostly for Category I, with likely recommendations for additional services, such as at least 12-Step groups and perhaps an outpatient program).
Integrated Treatment Recovery Plans
Here are the common guiding principles of integrated treatment (general SUD treatment principles are incorporated):
• Recovery is a long-term process of internal change in which progress occurs in stages
• Treatment has phases, such as engagement, stabilization, primary treatment, and continuing care (aka aftercare)
• Treatment takes place in different settings over time (e.g., residential, outpatient, mutual self-help groups, private practice)
• The screening process must incorporate tools that can identify the presence of mental health problems
• The assessment process must incorporate items that can establish the background for both substance use and mental health problems, including mental health functioning during abstinence and the nature of substance use disorder issues during times of mental stability
• The assessment process must also identify the bidirectional interactions among the symptoms of mental health disorder(s) and SUD
• Treatment plans are customized to the individual to accommodate unique needs and maximize success
• Treatment planning takes into consideration which mental health symptoms may keep the client from fully participating in all the recommended treatment modalities and strategies (e.g., ADHD symptoms of inattention, Specific Phobia with a fear of enclosed spaces, Social Anxiety, a personality disorder)
• Treatment planning should include techniques for treating both conditions and take into account how symptom interactions may impact the individual's treatment experience
• Treatment planning should always include relapse prevention that teaches clients how to recognize relapse warning signs, as well as how to prevent and manage relapse
• Treatment planning should incorporate client's unique relapse triggers that may be connected to non-SUD mental health conditions (e.g., what causes anxiety, panic attacks, onset of depression)
• Treatment should utilize the most effective therapy methods available, including evidence-based approaches such as Cognitive-Behavioral Therapy (CBT) and Dialectical Behavior Therapy (DBT)
Treatment Modalities
Integrated treatment recovery plans may include a combination of modalities. The main choice is between residential and outpatient treatment, although some treatment centers offer partial hospitalization that allows for customization. It is also necessary to determine if the individual needs detoxification for physical dependence, which can be part of either residential or outpatient treatment.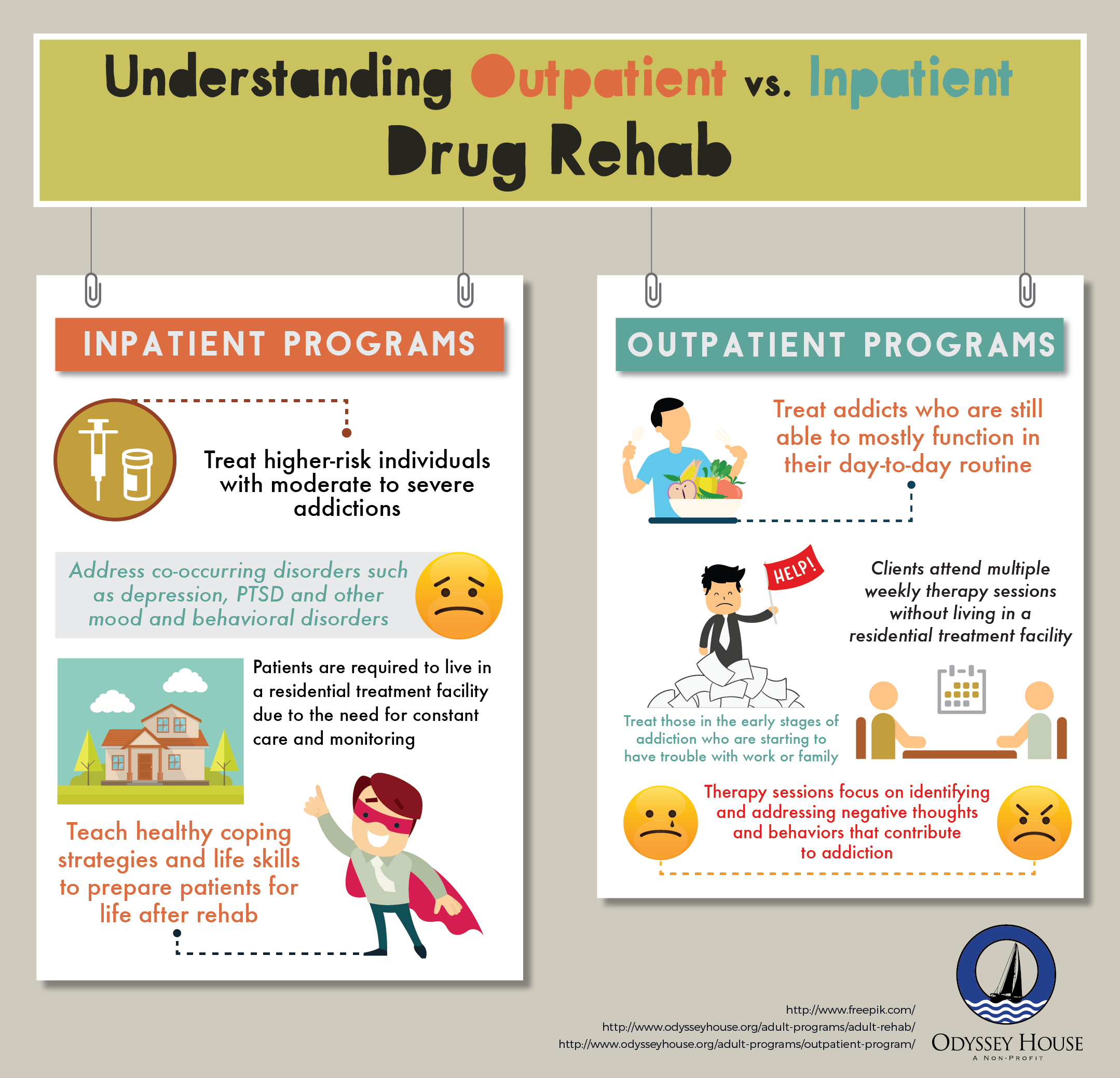 Residential Treatment offers 24-hour access to help and emotional support. A typical stay is 28 days due to insurance reimbursement, but the recommendation is actually for at least 3 months for individuals with moderate and severe SUD. Following residential treatment, it is crucial to remain engaged in the recovery process through an outpatient treatment and/or aftercare program in order to reduce the risk of relapse.
Long-term Residential Treatment is also an option, typically provided by so-called therapeutic communities. In addition to addiction and mental health treatment, these highly structured programs focus on resocialization and development of personal accountability, responsibility, and socially productive lives. The length of stay is 6-12 months.
Outpatient Treatment is a good choice for those who do not need 24-hour supervision or cannot enter a residential treatment due to financial and/or work concerns. Low-intensity outpatient programs may offer little more than addiction education. Intensive treatments can be comparable in their effectiveness to residential programs and are likely to have levels of care to accommodate severity and phase of treatment.
Detoxification is used for systematic and medically supervised withdrawal that could otherwise be life-threatening (e.g., for alcohol, opioids, and benzodiazepines). It is not recommended for an individual to go through detox only without any additional treatment.
Treatment Strategies
Here are some common strategies for residential and outpatient treatment:
• Group therapy sessions with topics such as specific mental health diagnosis, addiction treatment elements (e.g., common relapse triggers, principles of relapse prevention), and general life issues
• Individual therapy sessions that use techniques such as Motivational Interviewing (to build up intrinsic motivation to change through personal goals and values) and CBT and DBT (e.g., to identify/replace self-defeating thought processes and core beliefs; teach emotional regulation and positive new behaviors; address in greater detail unique relapse triggers and relapse prevention)
• Medication therapy that addresses both COD elements and helps individuals focus on therapy sessions and other program components (may include medication that minimizes withdrawal symptoms and medication that prevent/reduce cravings by helping the brain adapt gradually to the absence of the substance)
• Peer support groups that include disorder-specific groups as well as those that serve as an introduction to 12-step programs (e.g., AA, NA, DTR [Double Trouble in Recovery], and DRA [Dual Recovery Anonymous])
• Holistic therapies such as meditative movement therapies (e.g., yoga, tai chi), acupuncture, massage, hiking, and animal-assisted therapy
• Family counseling and education, which typically includes family sessions with the client's individual therapist, a family workshop during the treatment process, education on the disease of addiction, and ongoing support during and after treatment
• Life/work skills enhancement, which includes help with topics such as parenting, legal assistance, and job skills development
• Development of a comprehensive aftercare plan, which is crucial if the individual is to continue the recovery process after the completion of a rehabilitation program. This may include any combination of the strategies mentioned above, just at reduced frequency
The Issue of Relapse
Relapse is a return to substance use after an attempt to stop. Addiction is referred to as a chronic, relapsing disease because to relapse is common among people in recovery.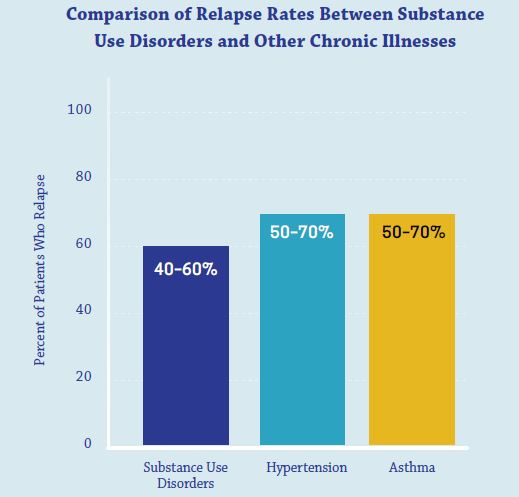 The relapse rates for substance use disorders are estimated at 40%-60%, which is similar to those for the chronic illnesses of high blood pressure and asthma. This comparison is made to show that addiction relapse is not unique among medical diseases.
For any chronic illness, relapse is seen not as permanent failure but as a sign for resumed, modified, or new treatment. Relapse is a series of setbacks along the way to recovery.
In the case of addiction, which is a brain disease rather than just a physiological problem, relapse in no way signifies that all hope is lost. Recovery from SUD involves changing deeply rooted behaviors and bringing neural circuits back to healthier functioning. Addiction can be managed successfully. Treatment can be tried again with renewed resolve and recommitment.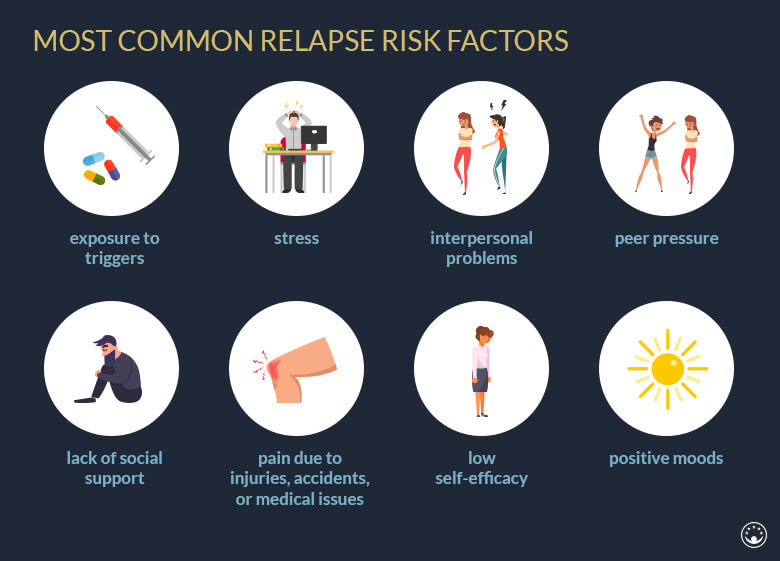 Content based in part on the following public domain sources:
• Substance Abuse and Mental Health Services Administration. Key Substance Use and Mental Health Indicators in the United States: Results from the 2018 National Survey on Drug Use and Health (HHS Publication No. PEP19-5068). SAMHSA, 2019
• National Institute on Drug Abuse. Drugs, Brains, and Behavior: The Science of Addiction (NIH Publication No. 18-DA-5605). U.S. Department of Health and Human Services, 2018